As I write this, I'm sat with a little bottle of pink lemonade on the platform at York Station, heading home from the Social History Society's annual conference. This year's conference, held at the University of Northumbria in central Newcastle, was my first – but hopefully not my last.
It is a sign of just how big and busy a conference it is that I'd only said the briefest of hellos to some of the twitterstorians I had hoped to spend some time meeting or catching up with. If you're one of those, then I hope to be able to rectify that some time soon. Still, it was great to spend the past few days with some fascinating people – not least to finally meet Professor Karen Hunt who's been so helpful to me in putting together a postdoctoral funding bid recently. By the end of the conference, Karen had been elected as the new Chair of the Social History Society.
As well as a plenary from Professor Colin Jones on '24 Hours in the French Revolution: 9 Thermidor Year II and the Overthrow of Robespierre', there were seven strands for papers. I spent most of my time in either the economies, culture and consumption sessions or those on life-cycles and life-styles, paying an occasional visit to the spaces and places room. Unfortunately that meant I didn't get to see any of the papers on global and transnational approaches; narratives, emotions and the self; deviance, inclusion and exclusion; or political cultures, policy and citizenship. Given the subject of my work, it was as usual that I tended to be sat amongst a heavily female audience. Interestingly enough, some of those in other sessions said they'd found the mirror of this, with a heavily male audience in the political sessions and some others.
Charlotte Clements was missed, who had planned to speak on a panel with Dr Kate Bradley and myself on voluntary organisations and charity in changing times, but was unable to be there in the end. However, I didn't mind having an extra ten minutes to speak in her absence to speak. Kate's excellent paper considered the impact of deindustrialisation on the voluntary organisations in Medway, Kent, throwing up some fascinating insights into the use of heritage as regeneration as part of a wider story of shifting boundaries between business and social action.
This sat well alongside my paper, which addressed the core conclusions of my research into the introduction of payment in British hospitals in the early twentieth century. This theme of paying for health is one I've written and spoken about before, but it perhaps has a new focus now as I work on the book. What was new was how I framed this research in terms of contemporary relevance. I used the theme of charity in changing times both to look at the interwar years and to think about the parallels between the arrival of payment in a primarily free hospital system at the beginning of twentieth and the same thing happening today as private and 'self-funded' services become increasingly commonplace within the NHS. Or, more precisely, I took the opportunity to emphasise, alongside the contemporary relevance, the limitations for drawing direct lessons from a rather different past. The prominence of charity, the surprising marginality of commercial medicine and the rigidly class-differentiated pre-NHS mixed economy were essential features of healthcare in the British past that do not aid direct policy conclusions. On this basis I suggested these were seductive yet problematic parallels between today and the situation before 1948.
The turnout and the response were encouraging – and by lunchtime on the first day I was off duty and for the rest of the conference I was free to indulge myself as humble audience member, as well as to partake at the CAMRA ale and cider festival conveniently taking place in the Student Union building.
A session on food and the First World War offered new ways to think about some familiar topics. Dr Bryce Evans suggested there were aspects of moral economy in the 1915 Liverpool anti-German 'food riots' following the sinking of the Lusitania. He read from Irish Liverpudlian Pat O'Mara's memoirs, giving a detailed account of how the disturbances spread across the city. I'll have to take a look at this source and put it alongside Ernest Marke's memoirs of a black Liverpudlian (a source we give our History first years at Liverpool), which gives an account of the riots centred on unemployment and race four years later in the febrile aftermath of the war. I suspect this would generate quite a different view from that suggested by Dr Evans, foregrounding a matrix of social tensions in the city rather than the morality of the mob. Still, plenty to be thinking about.
The session also featured an interesting paper from Thomas George about the engagement of women in Welsh agriculture during the war, shifting our focus to the production of food – locating wartime difficulties in a longer story of farming decline in Wales. This was followed by a paper by Professor Karen Hunt on how the local food control committees across Britain during the First World War created a new "women-focused politics of food" that would be central to the living conditions politics of municipal socialism in the 1920s. I was particularly interested to hear of the pioneering provision of municipal milk during the First World War, prompting me to ponder exactly where this fits with another pet interest of mine – the municipal provision of milk to poor mothers and children following the 1918 Maternity and Child Welfare Act, a startlingly overlooked aspect of welfare before the welfare state. Overlooked, that is, by both historians today and by central government at the time, who really had no idea by the 1930s of what such provisions were being made by local authorities.
The conference was full of fascinating papers and sessions. Raf Nicholson gave an interesting paper on how women cricketeers have tested and crossed gender boundaries, even whilst decrying bra-burning women's libbers. Meanwhile Dr Eloise Moss and Katy Roscoe spoke on a panel together, seemingly addressing very different topics. Eloise's paper was on the introduction of the electric burglar alarm in London from the 1920s, while Katy's was on Australian prisoner islands at the end of the nineteenth century. What linked them was that both posed some fascinating questions regarding not only the extent to which the state responded to these, but also how the fear of these threats to peace and civility informed understandings of what the responsibilities of the state were.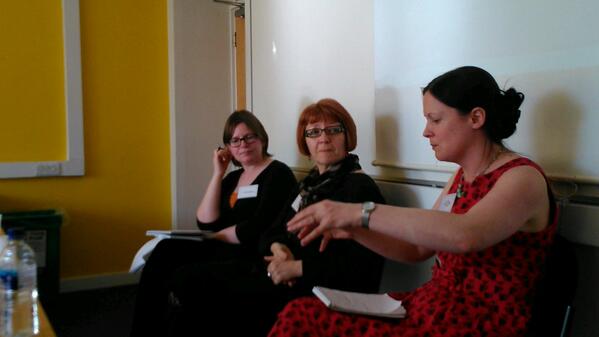 Disability and injury featured heavily in three sessions I attended. In one Dr Vivienne Richmond gave a fascinating paper on the Girls' Friendly Society's late-Victorian and Edwardian activities in providing needlecraft employment in the home for invalided women. As Vivienne highlighted, they were not only invalids but also in-valid women, robbed of their femininity – something needlework could partially restore. Something that opened up some intriguing lines of enquiry for me in researching recipients of charity is that in a few cases we still have the embroidery these women produced – and the idea of using needlework as a source to gain insights into those who were doubly silenced (first by charity and then again by posterity) is certainly a new idea to me. The second was a panel of researchers working on a major coalfields project. There were some heart-breaking stories of the physical toll of mining. "It's bad for the soul to be a broken man at 40", wrote the Picture Post. But we also heard of young children crushed to death and then blamed for the incident for treating the mine like a playground (unsurprising when these were sometimes children of eight or younger). But another recurring theme was also rehabilitation. It was primarily in order to reduce the cost of compensation that the Lanarkshire Miners' Rehabilitation Centre was opened in 1952, where sport was used to rehabilitate not only the body but also masculine identity. At the other session, Jill Kirby gave an excellent paper on Roffey Park, a rehabilitation centre set up during the Second World War for those suffering from "industrial neuroses" – a medical development prompted by concerns of a bottleneck in productivity in the war economy, where treatment was inherently a matter of getting people back to work. Dr Vicky Long spoke about the history of mental distress, with workplace suicides featuring prominently. Employers coming to address these issues was driven largely by attempts to avoid having to pay out compensation or widow's pensions. Poisonings from the herbicide Paraquat were the focus of a paper from Catherine Rushmore. There was a major fear in the 1960s and 1970s over accidental death, but suicide was actually far more common. The Daily Mail was leading the charge in campaigning for the banning of the chemical in the early 1970s, although that didn't stop them carrying adverts for the same company's other chemicals, such as Weedol, at the same time.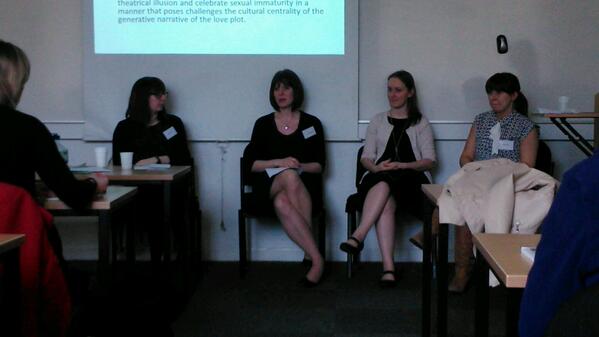 I always make sure I attend one session at any conference that does not directly relate to my research. It's often when we learn about something entirely new to us that we find new and refreshing ways of looking at our own subjects. For me at this conference, it was a session on early-modern gender, sex and families. The prominence and significance of re-marriage and what Maria Cannon anachronistically but usefully termed "blended families" was certainly new to me. As was the folk custom of hanging a knife over a baby's cot to defend against the fairies that might otherwise steal the child and replace it with another. Such practices, Sarah Fox told us, not only continued into the twentieth century, but have now been succeeded by ideas such as buying a cot before the birth tempting fate. And I was very conscious of being the only man with a beard in the room for Vicky Sparey's hugely entertaining paper on "bodily ripening" in the plays of Shakespeare. These were all excellent papers, but for me the stand-out paper (perhaps of the whole conference) was Jennifer Evans's on early-modern male infertility. While historians have focused on "barren women" and assumed patriarchal attitudes largely meant an unawareness of the issue regarding men, but Jen suggested a rather different picture emerges if we turn our attention from medical to surgical texts. Being able to cure men of infertility (and the focus seems to have been heavily on the inability to father children rather than on impotence) was an important way of signalling a quality surgeon over a lowly operator, who might rush to drastic options such as removing the testicles when treating a hernia. This was a fascinating glimpse into the early-modern world of masculinity and fathering that I was not at all expecting – and I'll look forward to hearing more at the Perceptions of Pregnancy conference Jen is organising with Dr Ciara Meehan at the University of Hertfordshire this summer.
But in the meantime, it's been a busy few days with much food for thought.